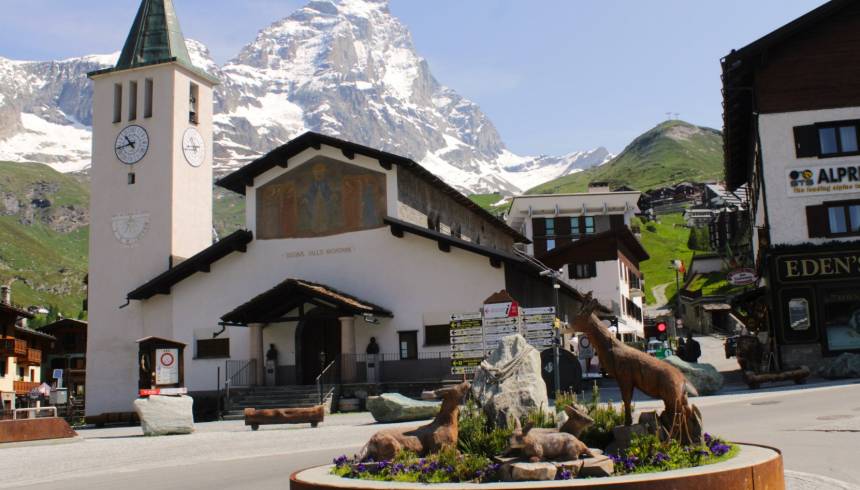 26 Jul 2023
The highest cable car in Europe has opened between Cervinia and Zermatt
The long wait is over, on 1st July 2023 the Matterhorn Glacier Ride II has opened to public. The new three-way cable car connects the mountain station Matterhorn Glacier Paradise with the valley station Testa Grigio/Plateau Rosà in Italy, allowing you to cross the highest cross-border crossing of the Alps, the so-called Matterhorn Alpine Crossing.
The cableway connection between the Matterhorn Glacier Paradise and Testa Grigia sees the realization of a once-in-a-generation dream: to be able to travel the entire way from the Breuil-Cervinia (Italy) to Matterhorn village of Zermatt (Switzerland) without having to get your boots wet! It's a visionary cableway that will further enhances the status of Cervinia high-alpine destination. The panoramic journey, lasting around one hour from Italy to Switzerland and vice versa, covers an altitude difference of over 4'000 metres – the greatest by any cableway in Europe.
This generational project brings even closer the destinations of Zermatt and Breuil-Cervinia. The new Matterhorn Glacier Ride II cable car takes you from the Matterhorn Glacier Paradise mountain station 3883 metres above sea level to the Testa Grigia/Plateau Rosà valley station at 3458 metres.
The Matterhorn Glacier Ride 3S cableway carries 25 cabins, with the help of three cables for each cabin.
3S cableways combine the most advanced technology with the highest safety standards and greatest ride comfort. They offer numerous advantages over conventional circulating cableways, ensuring a more stable ride in high winds and providing increased carrying capacity and greater driving speed. With a maximum speed of 7.5 metres per second, the Matterhorn Glacier Ride I can carry up to 2000 passengers an hour to the Matterhorn Glacier Paradise. The carrying capacity of the Matterhorn Glacier Ride II will be around 1,300 people per hour.
For the first time ever, guests can travel from Italy to Switzerland and vice versa not only on skis and snowboards, but also comfortably seated. The new plant completes the last section still missing between Breuil-Cervinia and Zermatt, turning into reality the transalpine connection in the highest cable car of the Alps.
From 2024, luggage transport will be proposed, to make the journey through the Alps easy and comfortable. On the peaks there are various activities available such as the world of experience SnowXperience Plateau Rosa at the valley station Gray Head or the Matterhorn Glacier Paradise around the mountain station.