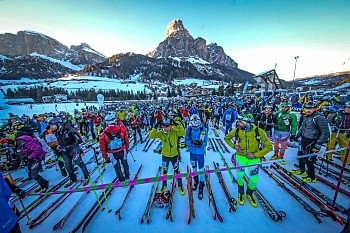 11 Mar 2023
​Sellaronda Skimarathon 2023, Dolomites
Sellaronda Skimarathon
The international Sellaronda Skimarathon is a classic ski-tour race in the Dolomites.
This year it will take place on 31st March from 18:00
The route of the Sellaronda Skimarathon, the international night ski tour competition around the Sella group is 42 km long and this year it takes off from Arabba through to Canazei - Selva Gardena – Corvara and finishes in Arabba.
A team taking part in the Sellaronda Skimarathon consists of two people. Equipped with touring skis, skins that are slapped on these skis as well as a headlamp they race round the Sella Group and cross the four Dolomite passes of Sella, Gardena, Campolongo and Pordoi, connecting the localites of Corvara, Arabba, Canazei and Selva Gardena. These four Ladin localites alternate in hosting the starting and finishing place of this ski-tour race.
The drop the athletes have to overcome on the 42 km long course is about 2,700 m. The race does not only require specific workout, but also demands from the athlete's adaptability regarding temperature and changing weather conditions. This is one of the reasons why this ski-tour race is reserved for experts.