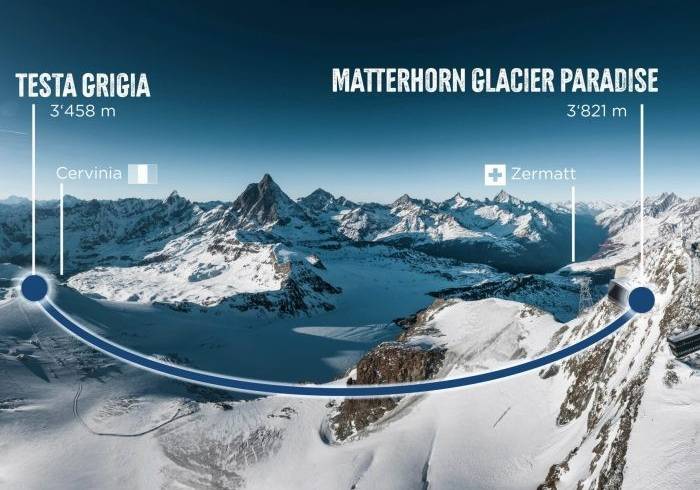 11 Mar 2023
Cervinia to Zermatt-highest Alpine cable car crossing
The wait is (almost) over, the opening to public of the highest Alpine Crossing in Europe, the Matterhorn Glacier Ride II, which connects Zermatt directly to Cervinia is scheduled for 1st July 2023.
This is the last piece of the awaited Alpine crossing to complete the cable car connection between Zermatt and Breuil-Cervinia, between Switzerland and Italy.
The route is 1.6 kilometres long with 363 meters of drop in altitude between Plateau Rosà / Testa Grigia (3458m) and Piccolo Cervino (3821m); the ride will only take 4 minutes.
Visitors will be able to get merely in 4 minutes from the Little Cervinia cable car station sitting at 3821 metres above sea level in Switzerland to 3458 metres at the Testa Grigia station in Italy. The Matterhorn Glacier Ride II concludes the Matterhorn Alpine Crossing, which will allow you to go from Zermatt Matterhorn to Cervinia without ski gear for the entire year.
The new cable car, the 3S built by Leitner, will directly connect the top of the Klein Matterhorn to the Plateau Rosà allowing everyone, and not only skiers as happens today, to get around between Cervinia in Aosta Valley in Italy and Zermatt, the Valais Canton in Switzerland, and vice versa of course.
Work continues around the clock; the final finishing touches should be happening at the beginning of summer. The laying of the concrete for the station building in the valley and then the electrical installations will be worked on. Work on the cables is underway and will last about 3 months. For May, the cabins are expected.