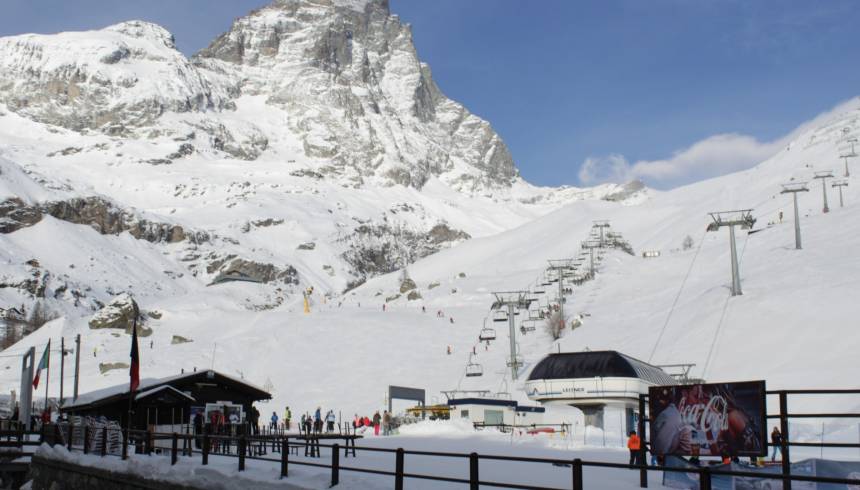 11 Mar 2023
Cervinia in Italy- among top four best snow sure locations in Europe
Cervinia in Italy- among top four best snow sure locations in Europe
Cervinia is situated at 2,050 meters above sea level, well over 500 meters above its other alpine rivals across the border in Switzerland and France. Cervinia offers to the winter sport fans over 200km of ski slopes. Some of the pistes are local and some connect with the neighbouring ski resort of Zermatt in Switzerland.
Snow is literally guaranteed between early December and late April due to the high-reaching ski terrain that goes all the way up to 3,820m. Paired with southerly facing slopes, skiers really are treated to the best of both worlds. Enjoy blissful days making fresh tracks through the powder and stopping for aperitifs in the sunshine.
Once skiers have enjoyed the Italian side, they can cross over into Zermatt to enjoy even more high-altitude descents, like the run from the top of the Klein Matterhorn, which starts at 3,820m and unfolds 21km downhill in one uninterrupted go.
Uniquely, Cervinia offers all year-round skiing thanks to its cable car connection with the Matterhorn glacier. So, if you are a keen skier, in the heat of the summer you can get on your skis and cool down at the neighbouring glacier. From Jul 2023 onwards, the fast cable car connection will be operational and will enable visitors even without skis to get in only a few minutes from Cervinia to Plateau Rosa glacier sitting above 3800 metres in Switzerland. A truly thrilling experience.