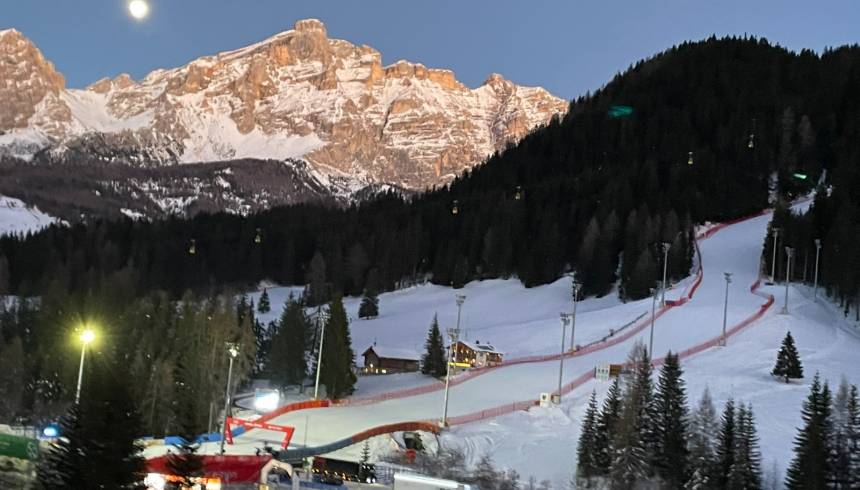 3 Dec 2022
The giant slalom competition from 17-19th Dec22 on the Gran Risa slope in Alta Badia, South Tyrol, Dolomites
The giant slalom competition on the Gran Risa slope in Alta Badia, South Tyrol, Dolomites
17-19th December 2022: WONDERFUL SKI WORLD CUP LONG WEEKEND IN ALTA BADIA
This edition of this major international event is the perfect occasion for you to enjoy a long weekend, to support your idol, to meet skiing champions, to go skiing yourself and to have a good time in the Dolomites.

Why you simply cannot miss it
Well prepared slopes, the unique atmosphere of the local villages decorated for Christmas, the tranquillity of the days before Christmas Eve and the Ski World Cup giant slalom competitions. The Gran Risa slope since 1985 has been the scenery of many exciting challenges, adrenalin rush and where great athletes from across the Globe compete to win. The long weekend from 17-19th December 2022 is the perfect occasion to combine great sport, fun and relaxation, in addition to the opportunity to see the great skiing champions who have helped write the history of skiing.
Support the great champions competing in a thrilling race of the Men's Giant Slalom on 18th December and on 19th December the Men's Giant parallel Slalom race on the Gran Risa, one of the most challenging and attractive slopes of the Ski World Cup, immersed in the woods of Alta Badia and surrounded by the Dolomites. Technically it's one of the most challenging slopes of the Ski World Cup; with more than 1.2 km of downhill track and a gradient of 69 degrees. This is where many great skiing champions have won, and most skiing enthusiasts want to try at least once in the lifetime the thrill of skiing on this slope.
First skiing of the season- The ski lifts in this part of the Dolomites open from 3rd December. In Alta Badia, enjoy the pleasure of skiing on perfectly prepared slopes even in the absence of heavy snow falls. The Alta Badia tourism board, which is part of the Dolomites Superski, can offer 144 km of slopes to skiers, with a further connection to many other slopes around the Sella Group.
Good luck or bad luck? Who will be the first one to face the Gran Risa? Which athlete will set the record to break? The raffle of the start numbers is an exciting moment not to be missed before a Ski World Cup competition and will take place on Saturday 17th December.