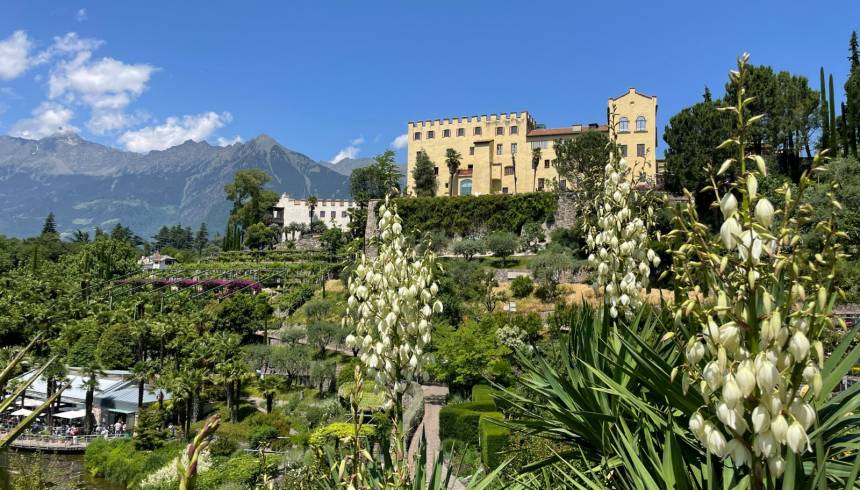 6 Aug 2022
Unique experience in the Dolomites- Botanical Gardens of Trauttmansdorf in Meran
Nature, Culture and Art in the Dolomites
Below the snow-capped mountains, in the vast valley with endless wineyards and orchards, just at the outskirts of Meran town we find the Botanical Gardens of Trauttmansdorf.
If you are staying in South Tyrol and would like to have a fun day out, learn more about the nature, culture and art of this area, Trauttmansdorf definitely worth while a visit.
It also houses Europe's first Tourism Museum with the World's biggest pinball machine on exhibition. You can also learn here about 250 years of the Alpine tourism history.
The museum building in the late 19 century used to be the winter residence of the Austro-Hungarian Empress Sissie.
The gardens stretch over 7 km long walkway with a wide array of flowers, plants, trees, landscapes animals and Art pieces exhibited which are sourced from all over the World. You can see about 6000 different species of plants across 12 hectares of gardens and 80 different landscapes. Each week there are new flowers, plants blossoming, visiting the gardens is an exciting experience. There are some unique lookout points, resting areas to relax and enjoy the beauty of this place. This establishment has been awarded in 2021 the European Award for Ecological gardening.