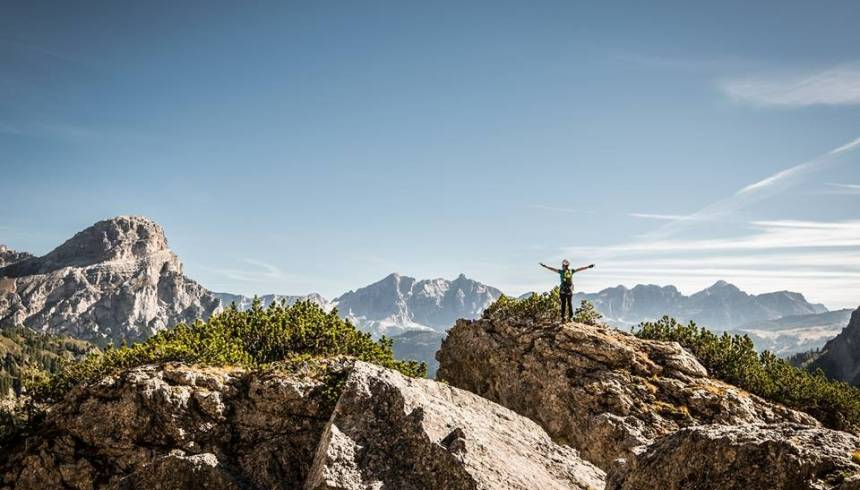 1 Jun 2022
New mountain climbing route or "via ferrata" - Furcela de Saslonch in Val Gardena, South Tyrol
New mountain climbing route or "via ferrata" - Furcela de Saslonch in Val Gardena, South Tyrol
The first historic mountain climbing route in the Dolomites has been built in Val Gardena. Financed by the "Pößneck" section of the German Alpine Club and festively inaugurated in 1912, the bold "via ferrata" runs from the Sella Pass over the craggy rock face of the Piz Selva up to the Sella plateau. Nowadays, the "Via Ferrata of the Meiusles" is considered one of the great classics and still a demanding overall challenge.
In the meantime, more than a hundred years later walking on steel ropes enjoys an increasing popularity.
In autumn 2021, a modern climbing route was set up in Val Gardena, Dolomites called Furcela de Saslonch. The goal was not to reach the summit, but rather to make the path a fascinating experience. In the Sassolungo mountain range, a rock structure was found that had not previously been of interest to alpinists and where small climbing routes already led. And since this ridge is located directly next to the forcella Sassolungo, access from the nearby Toni Demetz Hut can be reached in about 15 minutes. If you want get there without the cable car and reach the entrance by foot, the ascent from the Sella Pass takes about 45 minutes. The name of this new climbing route stands for "Forcella Sassolungo" in Ladin, it has a climbing length of more than 500 metres with some steep ascents, overcoming just under 200 metres in altitude.
The summit ridge is reached on an airy suspension bridge over a gap. In a few steps you descend to the Toni Demetz Hut. The magnificent rock scenery all around is impressive.
Technical data:
Grade B and C
Length of the via ferrata 500 m
Start–exit 200 m ascent
Duration about 2 hours