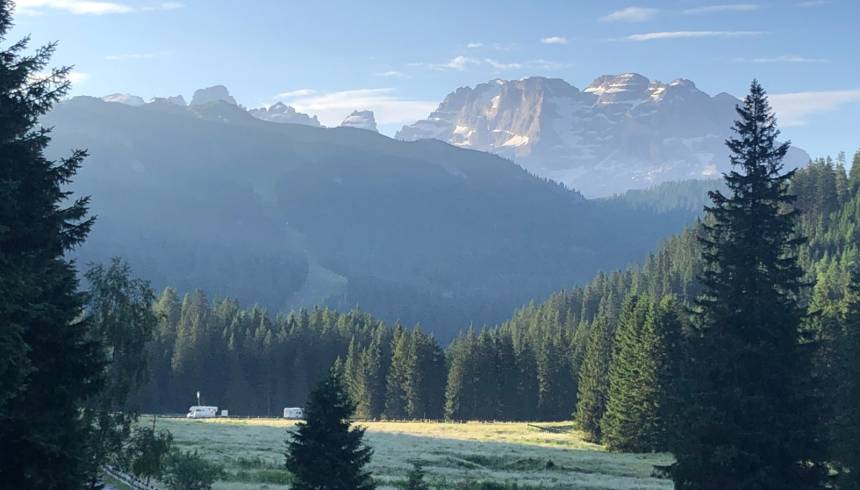 26 Mar 2022
Brenta Dolomites
Brenta Dolomites
This is the only Dolomite group entirely in Trentino region of Italy, located west of the city of Trento.
The Brenta Mountain Group is of great naturalistic importance, it is far from residential areas and main roads. It is part of the Rhaetian Alps and is the only UNESCO Dolomite site that lies entirely in Trentino as it is located to the west of the Adige Valley.
This impressive mountain comprises of various valleys, such as Giudicarie, Val Rendena. Val di Sole and Val di Non.
For those who love the mountains and the activities they offer, the Brenta Dolomites are a real paradise: eight peaks are above 3.000 metres and most of them are higher than 2.500 metres.
These mountains are also of primary importance for mountaineering history, thanks to some peaks that have become famous throughout the world, such as Campanil Basso, Crozzon di Brenta, Cima Tosa and Cima Brenta.
How to reach the Brenta Dolomites
There are four main access points to the Brenta Dolomites. From Val Rendena the Brenta Dolomites can be reached easily by mountain lifts to Grostè or on foot from Vallesinella. In the Valli Giudicarie, the recommended access points are from Val d'Ambiez, above San Lorenzo in Banale.
From Val di Non, we recommend you reach the Brenta Mountain Group from above Cles, or by entering Val di Tovel, also with ski lifts, from the Prader plateau, just above Molveno in Paganella. This is a strategic point for accessing the main trails of the Brenta Mountain Group, also a historical site where in fact, in 1864, the first exploration of the Dolomites began, with the first crossing of the Bocca di Brenta.
Some incredible places to visit in the Brenta Dolomites:
Adamello Brenta Nature Park, which accounts for a tenth of Trentino's surface area and is home to a Geopark, based in Carisolo walk to Malga Ritorto hut, where you can enjoy one of the most famous views of the Dolomites.
San Lorenzo in Banale, is of Italy's most beautiful villages.
Lake Toblino- with a beautiful castle, which lies in the heart of the lake