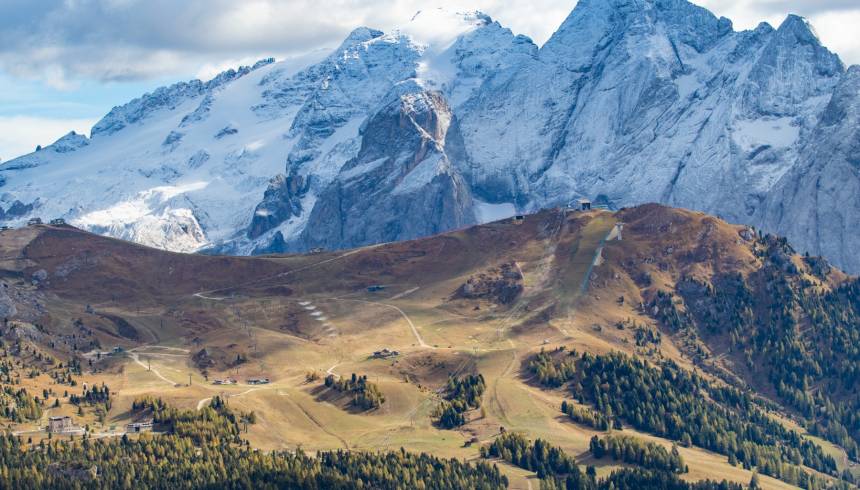 12 Nov 2021
Ski area Canazei (Belvedere- Pordoi) in the Dolomites
Skiing area around Canazei (Belvedere- Pordoi) in the Dolomites
This skiing area offers gorgeous views on the Dolomites: Catinaccio, Sella and Marmolada.
The most famous winter sport area in the Val di Fassa valley is Canazei, probably because it is situated at the Pordoi, Fedaia and Sella Dolomite passes. The skiing area Canazei - Belvedere is connected to the popular Sellaronda and is also called the gate to this tour.
From the top of Sass Pordoi you can enjoy three classic and adventurous tracks of alpine skiing which offer a great view on the magic Dolomite peaks. Several tours on ski which are very popular due to the great view and panorama, for example the "Giro die Quattro Passi", "Giro delle tre Valli" or "Giro della Grande Guerra", can be started from here.
There is also a Belvedere/Canazei snowpark. Cross-country skiers can look forward to ski tracks at Campitello-Canazei and Canazei Ciampac. Variety is guaranteed!
Winter season 2021/22: December 4, 2021 - April 10, 2022
Operating hours: 8.30 am - 4.40 pm
Altitude: 1,460 - 2,244 m a.s.l.
Km of ski slopes: 25 (3 easy, 22 medium)
Cross-country skiing: 10 km
Lift facilities: 3 funiculars, 8 chair lifts, 3 gondola lifts