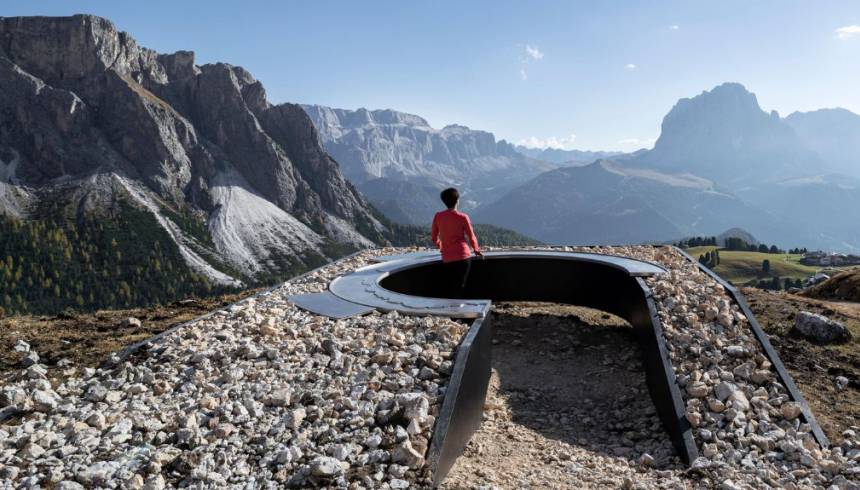 7 Aug 2021
New UNESCO Dolomites panoramic balcony built in Santa Cristina, Val Gardena in South Tyrol, Dolomites, Italy
New UNESCO Dolomites panoramic balcony built in Santa Cristina, Val Gardena in South Tyrol, Dolomites, Italy
The UNESCO Dolomites panoramic balconies are particularly fascinating vantage points in the mountains. They are an example of what makes the Dolomites so extraordinary, with their geological and landscape characteristics. There are two such balconies in South Tyrol; one of them is located in the Puez-Odle Nature Park in Santa Cristina: near the top station of the Col Raiser gondola lift, where a new terrace at 2,200 metres above sea level has been built, offering a breath taking views of the Dolomites.
The panoramic balcony on the Mastlé/Col Raiser, a UNESCO World Heritage Site of the Dolomites, was built with particular attention to an eco-sustainable approach. The structure of the terrace is closely linked to the surrounding environment, apart from the steel structure, locally sourced natural materials have been used.
This panoramic balcony offers breath taking views of the surrounding Dolomite peaks. From the viewing platforms one sees why the Dolomites are so extraordinary, one can observe the nature of the geological and landscape features.
The Mastlé - S. Cristina Val Gardena Panoramic Balcony, part of the Dolomites UNESCO World Heritage Site, is a project of the Provincial Authority for Nature Parks in collaboration with the municipality and the Tourism Association of S. Cristina.