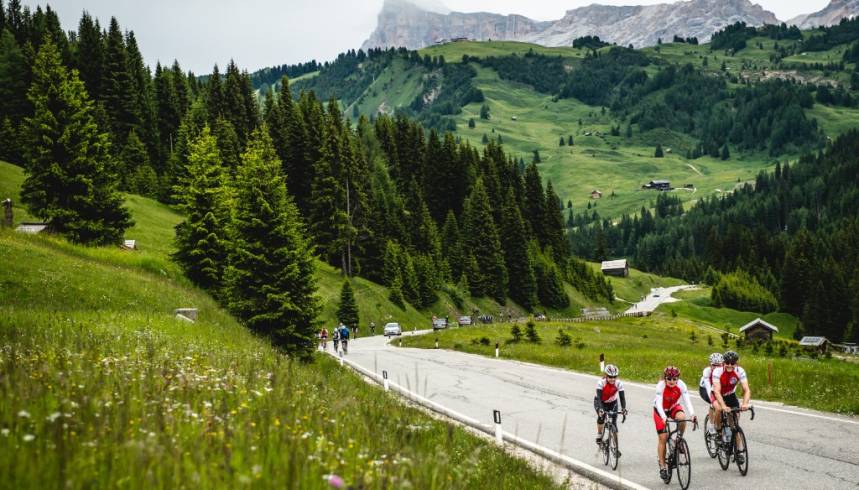 18 Jun 2021
Dolomites bike day 19. June 2021
Dolomites Bike Day 19. June 2021- one of the most important sporting events in Italy
The Dolomites Bike Day across 3 mountain passes, in the middle of the Dolomites UNESCO World Heritage area on 19.June 2021 will be exclusively reserved for cyclists.

Bike enthusiasts will have the opportunity to cycle across the passes of Falzarego, Valparola and Campolongo without any motorised traffic on the roads.
No matter your fitness level, the Dolomites Bike Day is a cycling event for everyone. You can take it as a real challenge and test your limits, or you can cycle in the mountains and ride the three passes with an e-bike.

From 8:30 am to 14:30 pm the roads linking Alta Badia, Arabba/ Livinallongo and Corina d'Ampezzo will be reserved for cyclists. The route is 51 km in total.

This is a non-competitive cycling event with free access to all bike enthusiasts.
This circular route, amidst fascinating natural landscapes, leads through some of the most scenic roads and well-known Dolomite passes in South Tyrol and Veneto. Starting from Alta Badia you cycle to Corvara and up to the Campolongo pass where you ride down to Arabba and Livinallongo. Here you climb the Falzarego pass and the Valparola pass - one of the most fascinating sceneries in the Alps - from where you reach again Alta Badia by cycling downwards to San Cassiano. From San Cassiano you ride to your starting point.
The route has a total difference in altitude of 1.370 meters.