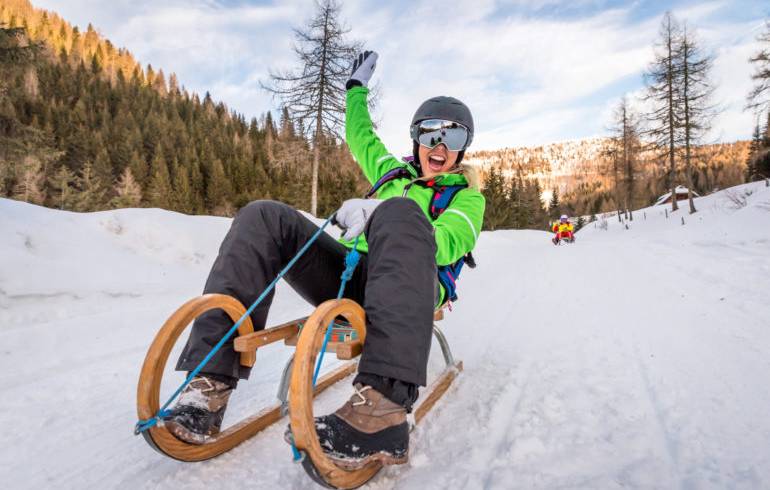 5 Dec 2020
WHAT OTHER OUTDOOR ACTIVITIES CAN YOU DO IN A SKI RESORT
WHAT other outdoor activities CAN YOU DO IN A SKI RESORT
Apart from skiing and snowboarding, most of the ski resorts during the winter months offer a wide range of activities, so you do not necessarily have to be a skier to visit a ski resort.

Why not try one of the following activities:
1. Hiking & snowshoeing
If you like being outdoors in fresh air and want to enjoy the breath-taking views of the mountains and valleys, why not spend a day hiking or snow shoeing. There is nothing better than spending some time in the mountains if you like peace and quiet. Most resorts have a number of signposted trails. Local tourist offices and hotels in most instances also have handy alpine guides who can organise for small groups or individuals an excursion and take you to visit some of the hidden gems of the area you are visiting. You might even come across some wildlife.
2. Tobogganing
If you like fast sports where you can pick up some speed, then instead of skiing or snowboarding you can do some tobogganing. Many mountain resorts have a variety of toboggan runs, some with some real sharp corners and pending routes. While enjoying the windy mountain routes, some taking you through wonderful forests and arriving to a tucked away village you can equally have fun if you are an adult or child, this is a great outdoor sport for all ages.
3. Ice skating
One of the most magical and elegant winter sports is ice-skating. The bigger ski resorts have ice-skating rings where all family can take part and keep fit. If you are lucky, some mountain locations might benefit even from a frozen lake in winter months. Provided the temperatures are low enough and its safe, one can ice skate on the lake which is a unique and magical experience.
4. Horse drawn sleigh rides
Take a horse drawn sleigh ride-an idyllic way for nature lovers to admire the peace and quiet of the mountains, the scenery and benefit from a unique experience while being wrapped up snugly in a tick blanket, an ultimate mode of winter travel. You can sit back, relax while gliding through the snow on a sleigh drawn by horses, an incredible way to explore a winter landscape and often pick up from the sleigh riders one or two unique local story as a souvenir. Horse drawn sleigh rides have a long tradition in the mountains
4. Fat biking
If you are a keen cyclist and by all means want to get on a bike in the winter months too, you can try out "Fat biking". Fat bike is one of the newest sport inventions, the mountain bike-like wide tyres can take you across snow covered roads and even ice, so no excuse, you can cycle even in winter months. Many bike rental shops rent out fat bikes. These are great for fitness all year round.
5. Paragliding
If you are really brave, like an adrenaline rush and not scared of heights than this could be your alternative to a day spent skiing on the slopes. Paragliding is like no other sport and you do not even need any prior experience to try it. Nowadays most mountain ski resorts have experienced instructors offering tandem flights, so they will glide off with you the mountain and you can gaze in the views of the hills, valleys, mountain villages from hundreds of meters height, a truly unique outdoor fun.