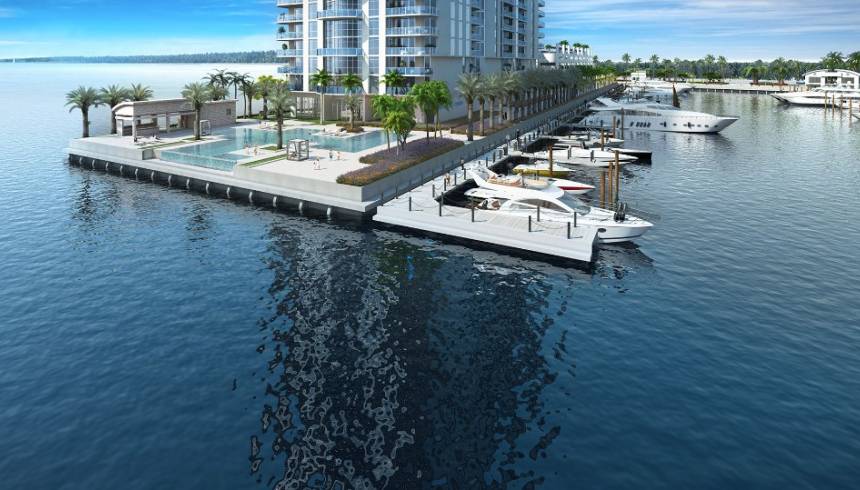 18 Apr 2020
Great destinations await those boating in Tampa
Boating enthusiasts are discovering a lifestyle that's pure paradise at Tampa's luxurious new waterfront. Located at this unprecedented address which boasts a deep water marina and unrestricted access to the open bay, which provides endless boating in Tampa waters to a host of naturally beautiful destinations.
Boaters know that getting there is half the fun! Here are a collection of a few stunning outdoor destinations that are only accessible by boat, all just a short and enjoyable ride from South Tampa Bay area.
SHELL KEY PRESERVE
Shell Key is a pristine barrier island that includes an 1,800-acre preserve with stunning marine habitats, mangrove islands and vast sea grass beds.
In addition to sun-splashed recreation, Shell Key is one of the state's most important areas for shorebird nesting, wintering and study. The central part of the island is reserved for conservation, leaving the northern and southern ends for fun times and relaxation along soft sand beaches.
Accessible only by boat, Shell Key Preserve offers camping as well as beach and boating activities.
EGMONT KEY STATE PARK
The unspoiled beaches of Egmont Key are reachable only by private boat and are ideal for collecting shells and savoring quiet beauty with family and friends. The park is also a national wildlife refuge, protecting a diverse community of animals and plants, including Brown Pelicans and Laughing Gulls.
History buffs will also enjoy Egmont Key State Park for its unique natural and cultural history. The lighthouse has looked out along the shore since 1858. During the 19th century, the island served various military purposes during the Third Seminole War, Civil War and Spanish-American War, and Fort Dade was built on the island and remained active until 1923.
Fishing enthusiasts also enjoy Egmont Key, as it's a prime spot for reeling in sea trout, tarpon, snook, grouper and snapper. Egmont Key snorkelling is popular because the welcoming waters are clear and calm – ideal for up close encounters with abundant sea life.
HONEYMOON ISLAND STATE PARK
Honeymoon Island represents a unique opportunity to escape the hustle and bustle of everyday life. It's an oasis of white-sand beaches and stunning sunsets that also invites visitors to discover a rare virgin slash pine forest via a scenic three-mile trail. The Honeymoon Island dog beach makes it a great experience for those who bring their pets on boating adventures too.
You can arrive only by boat to this much-loved state park for swimming, fishing and shelling, in addition to popular activities like biking and hiking. Honeymoon Island State Park is also accessible by a ferry from Caladesi Island.
Sun-seekers and boaters aren't the only ones to populate the state park. Wildlife residents include everything from gopher tortoises to eagles and great horned owls. The Rotary Centennial Nature Center offers a wealth of insights on Honeymoon Island's natural treasures and historic moments.
CALADESI ISLAND
Stephen Leatherman, an internationally recognized expert of sands and surf known as Dr. Beach, has judged Caladesi Island to be one of the best beaches in the United States for three years running.
"The white beach is composed of crystalline quartz sand which is soft and cushy at the water's edge, inviting one to take a dip in the sparkling clear waters," Leatherman said. "There are boardwalk trails, but my favorite is the kayak and canoe trails through the mangroves to see the large blue herons and other birds that frequent this wonderful natural area."
Caladesi Island State Park can only be accessed via boat and offers a host of unforgettable experiences. There are leisurely strolls along uncrowded beaches, kayaking through a mangrove forest and a nature trail walk through thick stands of pines and oaks to a historic homestead. Caladesi Island Camping is a favorite with those who love the great outdoors.
THREE-ROOKER ISLAND
A decade ago, Three-Rooker Bar did not exist. This small, semicircular island emerged as a result of the ever-changing sands and coastal processes along the Gulf, and has quickly become a favorite destination for in-the-know boaters.
Three-Rooker Island is something of a party paradise, a casual stretch of beach that's perfect for those who want to drop anchor and let the good times roll. Weekends are especially lively, except for the part of the island reserved as a protected bird habitat. Camping is allowed, but be advised that there are no facilities provided and pets are prohibited.