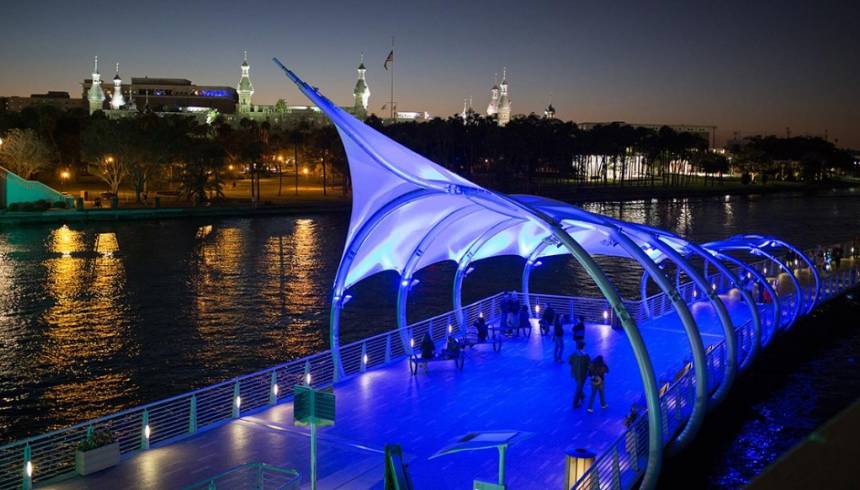 18 Apr 2020
Unique Things to Do in Tampa – Holidays on the Water
When you live in a luxury waterfront condo at Tampa Bay, many of the most unique things to do in Tampa will be just minutes from your front door. Residents can enjoyTampa Bay's sunny, mild winters in seasonal style with a variety of special activities in and around town.
Tampa's Most Walkable Neighbourhoods
South Tampa Bay is situated in the heart of one of the best neighbourhoods in Tampa, with miles of scenic waterfront trails and walkable access to on-site boat slips, restaurants and retail. Tampa regularly ranks among the most walkable cities in Florida, where pedestrians can indulge in a leisurely stroll and soak up the year-round sunshine and sea breezes.
Bayshore Boulevard
Beloved by locals and considered one of the world's longest continuous sidewalks, 4.5–mile Bayshore Boulevard winds along the shore of tranquil Hillsborough Bay from Gandy Blvd to the foot of the downtown Tampa bridge. This spacious pathway includes a 3-mile bike lane, Greenway Trail and simple workout stations with beautiful views of the water and the city skyline. With native birds soaring overhead and fish leaping out of the calm waters, Bayshore is an ideal location for anyone seeking a relaxing waterfront walk, jog or cycling session.
Tampa Riverwalk
The 2.6–mile Riverwalk promenade transformed a former warehouse district into one of the city's most active, walkable neighbourhoods perfectly suited for commerce, transportation, entertainment and fitness. The trail is peppered with a wide selection of restaurants where walkers can cool off and enjoy a refreshing drink or mouth-watering meal, from Armature Works' bustling food hall to Sail Plaza or Sparkman Wharf's relaxed outdoor dining. Key down town attractions such as the Tampa Museum of Art, Tampa Bay History Center and Florida Aquarium are also easily accessible via the Riverwalk – in the heat of the summer, pedestrians can also opt to climb aboard the distinctive Yellow Pirate Taxi and hitch a quick ride to the beginning or the end of the Riverwalk.
Hyde Park Village
Located within Hyde Park, widely considered one of the best neighbourhoods to live in Tampa, Hyde Park Village is an upscale open-air shopping district featuring a mix of national retailers, independently owned boutiques, and elevated dining options. The area spans a total of six city blocks, surrounded by enchanting tree-lined avenues with an exquisite iron fountain rising from the main square – after an afternoon of window shopping and exploring, dine at restaurants such as Meat Market, Forbici Modern Italian or On Swann, then pick up an artisanal popsicle from Hyppo Pops or a gourmet treat from Sprinkles' signature cupcake ATM.
Beach Drive
Downtown St. Pete's Beach Drive is home to a series of unique shops, shaded parks, and amazing restaurants and bars. The acclaimed Museum of Fine Arts and the world-class Salvador Dalí Museum both overlook Beach Drive, as does the historic Vinoy Renaissance Resort & Golf Club that was once frequented by the likes of F. Scott Fitzgerald and Marilyn Monroe. Walkers looking to spend a little time up close and personal with nature will enjoy pausing in the shadow of the ancient banyans, and dolphins, reef sharks and other Florida wildlife can often be spotted in Tampa Bay.
Live Just Minutes Away
The emerging Westshore Marina District at the intersection of Westshore and Gandy Boulevards, a short distance from Tampa's most popular and pedestrian-friendly neighbourhoods. Its contemporary, walkable lifestyle will introduce a new era of luxury waterfront living to the West Coast of Florida. Residents enjoy easy access to both Tampa International Airport and St. Pete-Clearwater International Airport — not to mention a wealth of shops, galleries and dining outlets in the Westshore Marina District as well as nearby Midtown, Water Street, Channel District, International Plaza and Downtown St. Petersburg.
Check out our exclusive Marina front apartments for sale at this brand new premier development at South Tampa or contact our team on ec@ecsmproperty.uk.com for more details.
https://overseasresidence.com/property/54383/premier-waterfront-apartment-at-south-tampa-with-luxury-living-and-marina-at-tampa-bay-florida-usa/