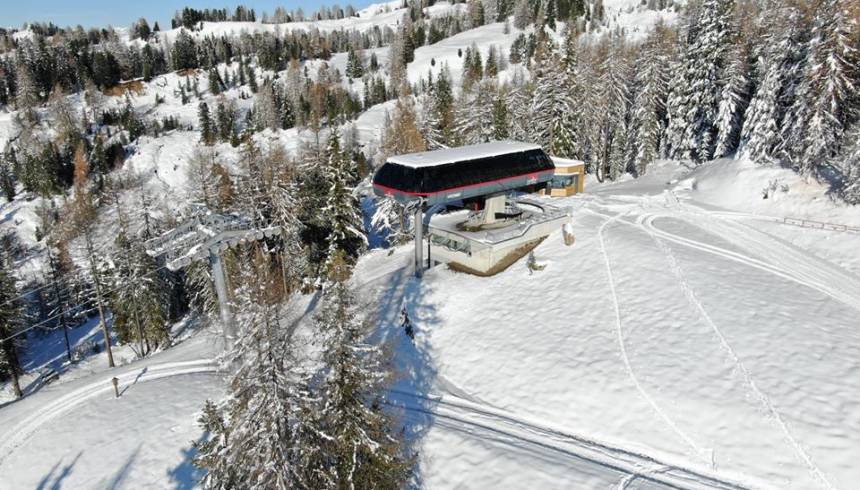 14 Nov 2019
New cable car fitted at Santa Croce ski slope in Alta Badia, South Tyrol, Dolomites, Italy
The chairlift "La Crusc", which takes you from the intermediate station to the immediate vicinity of the famous Church "La Crusc/ Santa Croce", after 21 years being in service has been replaced. The new cable car carriages can take up to ten people. It will officially open on 5. December this winter.
This new cable car will take passengers four times faster than the previous chairlift. In summer, with the existing chairlift it takes about 14 minutes to reach the mountain station, wile from now in it will only take three minutes. Groups, especially those with children, will be able to reach to the top more easily, faster. The modern cable car offer much more comfort and safety, especially for children and elderly.
The new cable car La Crusc is the first lift station in all Alta Badia that will be fully equipped with heated seats. Guests will no longer be exposed to the weather conditions.
The cable car is also suitable for people with disabilities or using wheelchairs. Furthermore the seats of the lift are foldable, allowing access to up to three mountain bikes per each cable car.
Moreover good news for those who already own a property or thinking of buying one in Alta Badia. According to latest Alpine property market reports, having a good infrastructure inlcuding ski lifts near an alpine home can add 10 percent to the property value.