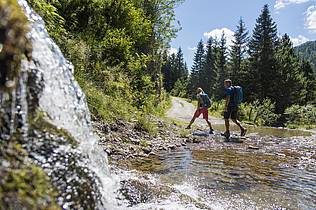 6 Sep 2019
Nockberge Region in Carinthia, Austria
Nockberge region- Alpine jewel on the sunny southern side of the Alps
A world of gentle hilly summits:
Deeply rooted in the Nockberge Biosphere Park, this world of gentle hilly summits offers unique activities following the rhythm of the seasons in an unadulterated natural landscape. The idyllic valleys in the municipalities of Ebene Reichenau, Gnesau, Deutsch Griffen and Himmelberg can be explored as early as spring on enjoyable themed hiking trails.
In summer a network of paths stretching for many kilometres invites
you up onto the mountains of the Turracher Höhe, Falkert, Hochrindl and Innerkrems.
Nockberge Biosphere Park
The absolute nature highlight of the region is doubtlessly the Nockberge Biosphere Park, a strictly protected idyllic place.
Covering 216 square kilometers (84 square miles) to the west of Turracher Höhe, it is intended to preserve the Nockberge mountains' unique beauty.
This paradise for mountaineers can be explored in many different ways with Turracher Höhe as the perfect base.