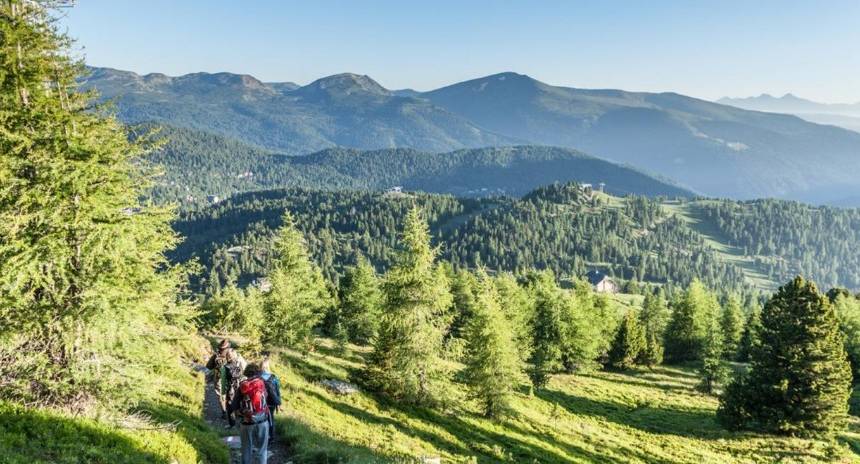 6 Sep 2019
Turracher Höhe area in Austria
Located on a high plateau with three mountain lakes (Turracher See, Grünsee and Schwarzsee), the village of Turracher Höhe is home to Austria's largest continuous stone pine forest and framed by the gentle yet impressive peaks of the Nockberge mountains.
The idyllic natural jewel on the border between the provinces of Carinthia and Styria at 1,763 metres above sea level is a little Alpine world in itself with exceptional assets and amazing scenery that appeal to all kinds of visitors.
In summer: Here mountain walkers, hikers, runners, Nordic walkers, mountain bikers and everyone else who enjoys nature and loves the mountains, will come into their own. Further unique attractions include the Nocky Flitzer alpine roller coaster and the Nocky's AlmZeit family adventure park right off the Panoramabahn cable car's mountain station.
In winter: The Turracher Höhe is a small, but beautiful family-oriented ski area between Carinthia and Styria It boasts of 14 mountain cable cars and lifts (four 6-seater chairlifts, 1 combi lift, 1 chairlifts, 7 drag lifts, 1 rope tows) and 41 km of varied slopes catering to all abilities are available for skiing pleasure.
The winter sport region Turracher Höhe offers great conditions for skiers, carvers and snowboarders alike:
42 kilometers of varied slopes of different levels of difficulty
14 cable cars and ski lifts: one combi lift of 6-person chair and 8-seater cabin, four 6-person chair lifts, seven drag lifts and one rope tow.
Snowpark Turracher Höhe 1.5 kilometers long with a beginner-, medium- and advanced line.
NEW: XXL Funslope
Great slopes at even greater altitudes. Modern, luxurious cable cars and lifts. Optimum snow conditions thanks to the area's geographical suitability for plenty of powder. There's ample space on the generous slopes.
Turracher Höhe, the small, but beautiful ski resort between Carinthia and Styria, high up in the Nock mountain range. Here, you can enjoy a variety of winter sports thanks to the cable cars and slopes located at up to 2,205 metres. The resort is also known for its attention to detail in terms of extra-skiing This is a ski resort for beginners and pros, carvers and snowboarders, who all have ample room to manoeuvre on the spacious slopes. However, the area's diversity is even greater than this: cross-country, ice-skating, winter hiking, snow shoe hiking, curling…