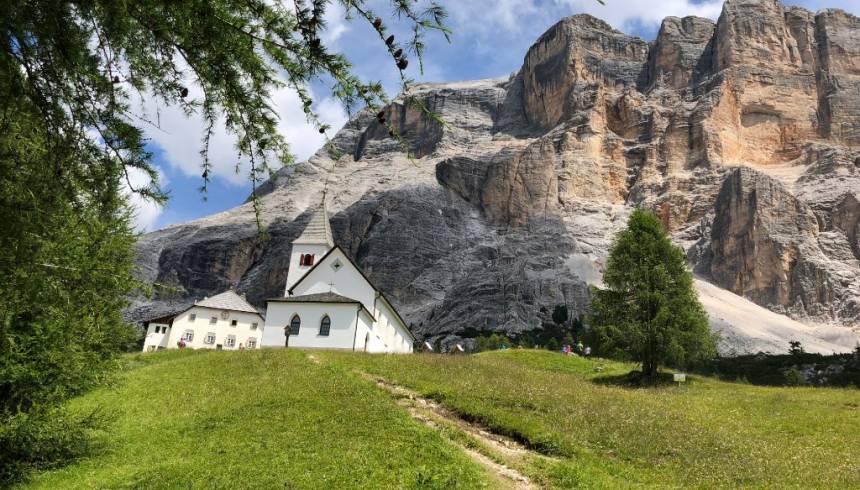 1 Aug 2019
First cable car with heated seats being installed this summer in Alta Badia,Dolomites, South Tyrol, Italy
The skiing and hiking area of La Crusc in Alta Badia will be soon equipped with a revolutionary innovation: new cable car
The now old two-seater chairlift "La Crusc" will be replaced by a modern cable car.
The chairlift "La Crusc", which takes you from the intermediate station to the immediate vicinity of the famous Church "La Crusc/ Santa Croce", has been operated for 21 years. The new cable car, an investment worth of Eur10m with a maximum capacity of ten people is being installed during 2019 summer, bringing significant improvements.
The new cable car takes passengers four times faster than the previous chairlift. In summer, with the existing chairlift it takes about 14 minutes to reach the mountain station, in the future, the cable car will only take three minutes. Groups, especially those with children, will be able to reach to the top more easily, faster. The modern cable car offer much more comfort and safety, especially for children and elderly.
The new cable car La Crusc is the first lift station in all Alta Badia that will be fully equipped with heated seats. Guests will no longer be exposed to the weather conditions.
The cable car is also suitable for people with disabilities or using wheelchairs. Furthermore the seats of the lift are foldable, allowing access to up to three mountain bikes per each cable car.
With the new cable car, upstream of the station, there will be a hiking path with a gentle slope leading to the church of La Crusc / Santa Croce.
Important information
During the season summer 2019, the chair lift will be closed due to the construction works of the new cable car. The most used and shortest path number 7 to reach the church is not recommended, as it will be used to transport materials for the works.