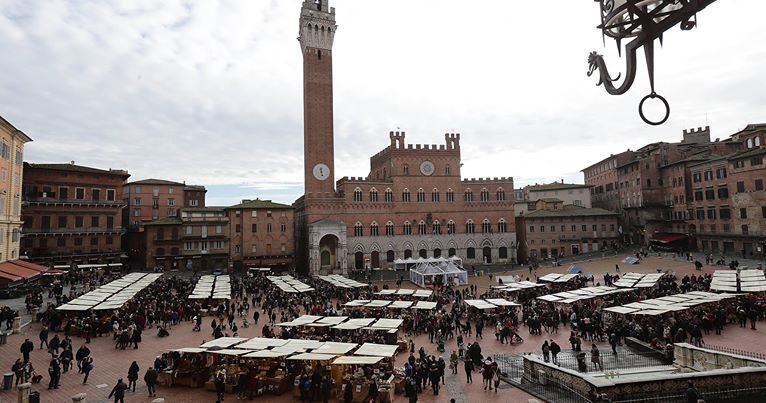 17 Apr 2019
The nature train passes through Tuscany in spring
An unconventional way to savor the uniqueness of Tuscany's landscape, traditions and culture as people used to enjoy in the past
From April to December, you can discover the area of Siena thanks to countless 'slow' itineraries on a locomotive. This is the perfect means of transport to slowly savor the uniqueness of Tuscany's landscape, traditions and culture as people used to do in the past.The Nature Train allows tourists to appreciate uncommon itineraries, the beauty of the landscapes and to enjoy special events at each destination.
Each itinerary, in fact, is combined with fairs, festivals, exhibitions, markets and initiatives, which aim to make you discover the excellent local foods and the extraordinary artistic and cultural heritage of the province of Siena.
This journey is perfect in particular for families with children. The trip takes place on a vintage steam train, which brings visitors into the territories of Crete Senesi, Val d'Orciaand Monte Amiata, making stops at the traditional festivals dedicated to truffles, mushrooms, olive oil, wine, chestnuts and cheese.
The first trip starts on April 22 from Siena and back, passing through Asciano, Monte Antinco and Buonconvento, where you can enjoy the antiques market throughout the streets. There you can visit the museo d'Arte Sacra (museum of sacred art) and the museo della mezzadria (sharecrop museum). Along this journey you can admire the Val d'Orcia, Unesco World Heritage Site since 2004, the hills of the Brunello di Montalcino wine and the Crete Senesi.
On April 25 the journey will take you from Siena to San Quirico d'Orciawhere you can stop and discover the beautiful fortress, the old town centre and the artisans' market with street artists performing on your way.
On April 28 from Siena, the train will stop in Torrenieri and a bus will take you to San Quirico d'Orcia to enjoy the local wine festival or go trekking in a guided tour.
On May 1 you can spend a very pleasant labor day at the traditional festival of Sant'Angelo Scalo, surrounded by music, market stands and good food. Folk bands will perform in the afternoon along the streets, where an outdoor country market will be set up.
The rides on the Nature Train go on until December 8, leading to Grosseto